The File Manager is a tool to manage your digital assets in one online storage space. Use the File Manager to upload and host documents, PDFs, images, and audio files on the Sinorbis platform.
You and your team can review, add, and update the materials you need to build website pages and posts. You can also use these assets to produce offline products such as brochures, sell sheets, and other sales support material.
See also
Locating the File Manager
Click WEBSITE on the top menu bar. The Website Content page displays.
On the left side menu, select the CONTENT folder and then click Files. The Files page displays.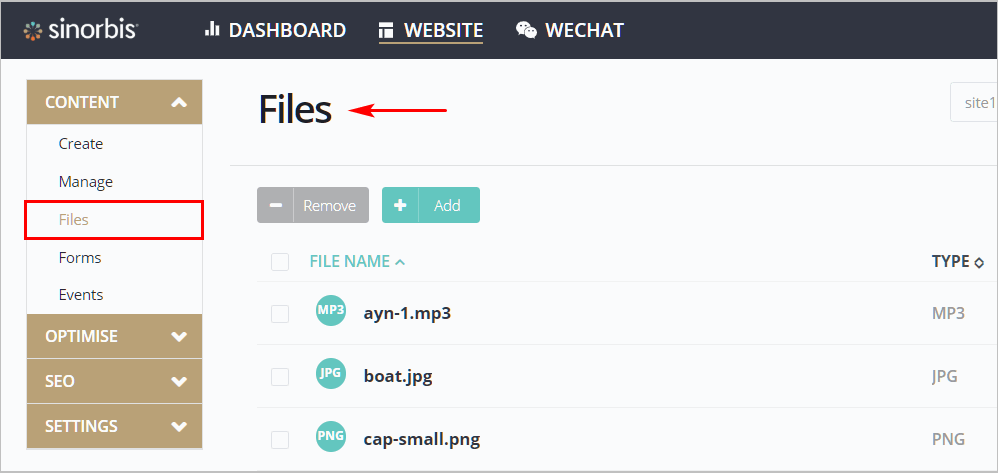 ---
1  Reviewing assets
The File Manager shows information about the assets in your online storage space. There are 4 types of file information:
name

type

size

last updated
List Order
Select the Up or Down arrows on the menu to change the list order of assets (i.e. ascending or descending).
Storage
The figure in the top right corner of the page shows how much storage space you are using. Each Sinorbis account comes with 1 gig of storage. Use this space to store:
images (e.g. png, jpg)

audio (e.g. mp3)

documents (e.g. pdf, MS Word doc)

Note
:  Images cannot be edited in the File Manager. We recommend using a free image editor like
GIMP
.
Links
Holding the mouse pointer over a file name changes the colour of the display. It also opens access to two functions: 
Copy link

. Copies the URL. Use this feature to create a text link that opens content, such as a pdf, MS Word document, or audio file.

Open

. Open the image file in a new window.

2  Adding files
To upload a file to the File Manager:
Click the Add button.

Find the image file on your computer in the active window.

Select the image file.

Click Open in the active window.

Video
You cannot upload video to the File Manager and post it to your website. Video must be uploaded to the Youku or Tencent platforms. From those platforms, link to or embed video on your website.
For more information, see:
3  Deleting files
To delete a file, or multiple files, from the File Manager:
check the box beside the file name

click the red Remove button

click Yes in the Confirmation box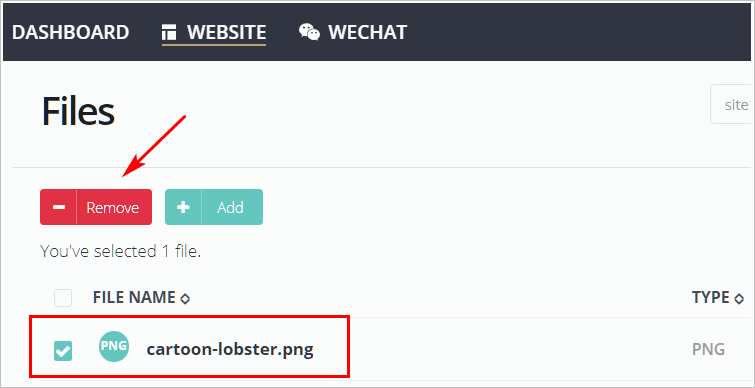 4  Searching files
Use the Search function to find files. Search by file name or file type.
Type the search word in the Search field.

To begin searching, press Enter on the keyboard or click the round Search button.

A list of resources displays on the screen.

Click the X in the Search field to cancel the search and return to the full list of files.