This article explains how to configure your Sinorbis integration with Zoom webinars.
To enable this integration you will need access to:
a Sinorbis Pro or Digital Suite subscription
In the following, we explain a couple of different things.
Enabling your Sinorbis Zoom integration (one-off app installation)
Integrating your form registration page with your Zoom webinar.
1 Enabling your Sinorbis Zoom integration
1. Log into your Sinorbis account using your credentials. You will be redirected to the Dashboard page upon successful login.
2. Hover your mouse over your user name in the top right corner for the dropdown menu to appear. Click on Business Information.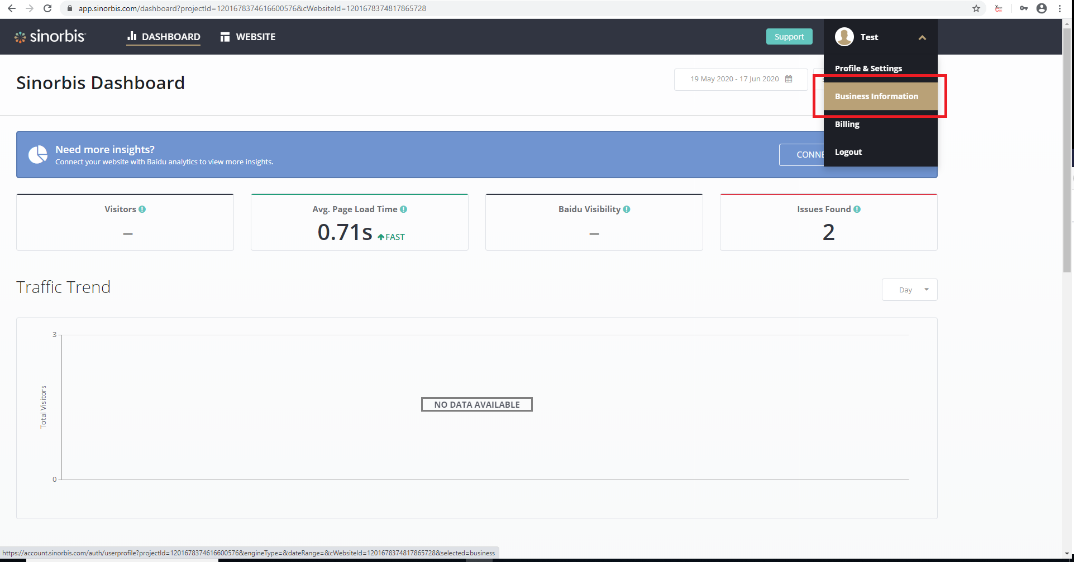 You will be directed to your Account Summary page which includes information about your Account Integrations.
3. Click on the Zoom icon under Account Integrations.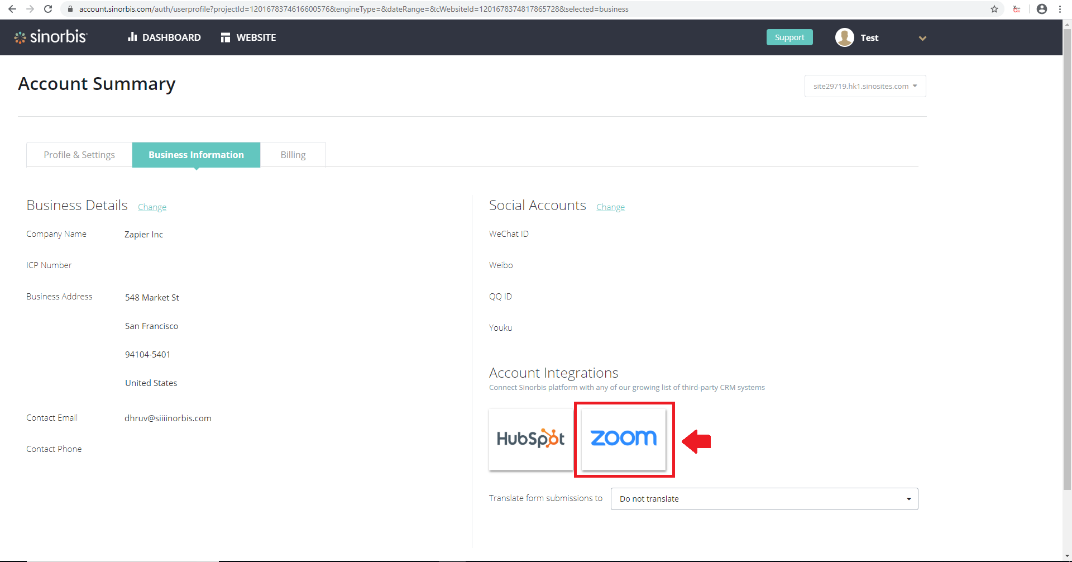 Once you click on the Zoom icon you will be redirected to the Zoom Login Page.
4. Enter your Zoom login details. After successful authentication you will be redirected to your Sinorbis Account Summary page.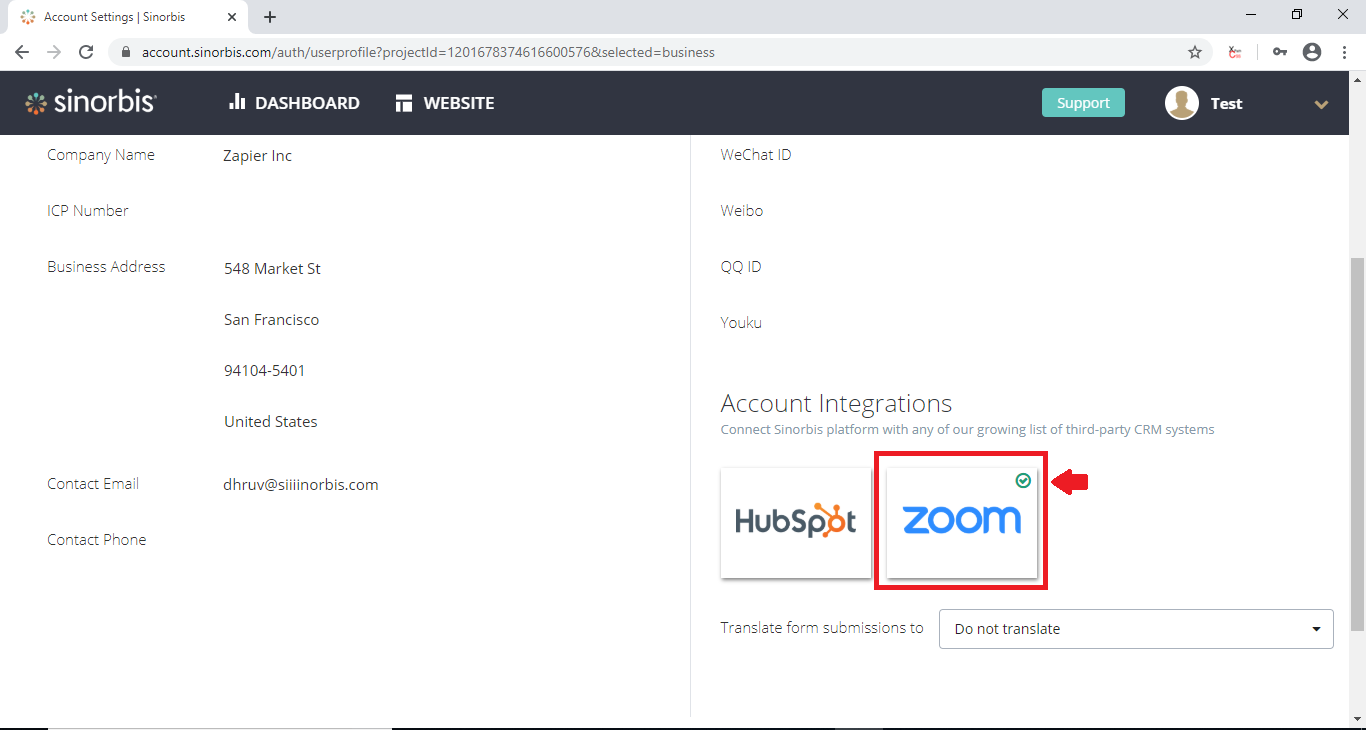 A green check checked icon will indicate if your Zoom account has been successfully connected to Sinorbis.

Next log into your Zoom account to continue with the integration set up. For the integration to work, you will need to ensure that in your Zoom webinar settings only First Name, Last Name and Email are set as required fields for the registration. Please note that this will not impact your data collection as this part will be taken care of by Sinorbis.
To manage these settings navigate to Admin >> Account Management >> Webinar Settings on the navigation menu on the left hand side.
Scroll down to Registration Settings and click edit on the right hand side.

Then select Questions and untick all required fields in the right column other than First Name, Last Name and Email.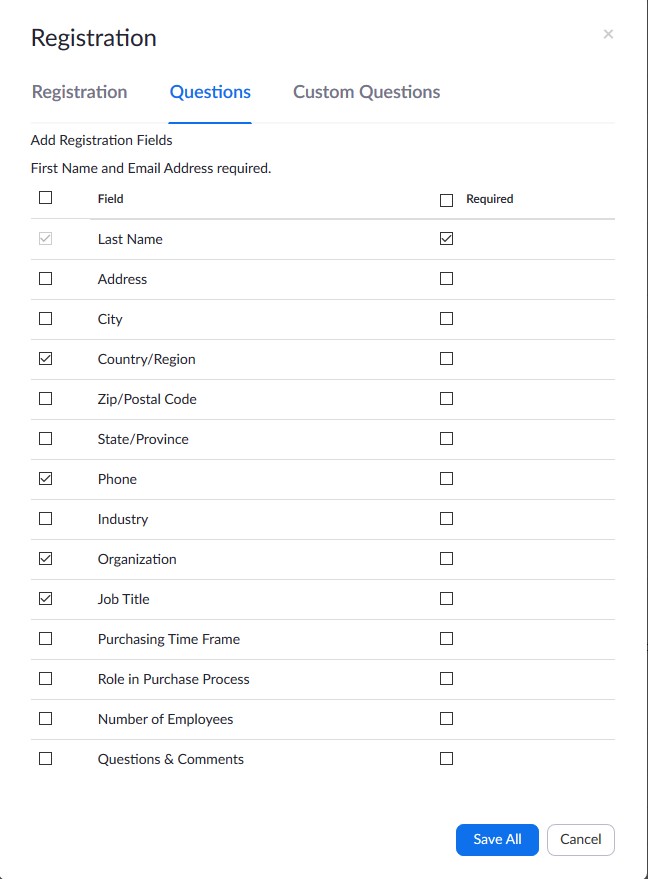 2 Creating a Zoom webinar
Please refer to the Zoom instructions to learn how to set up a webinar.
If you want to run multiple webinars under the same theme for different dates, we recommend creating them all at the same time, so you can maximise your promotion efforts via the Webinar Series landing page template.
Please note that the confirmation email for your webinar including the unique join link will be sent to registrants via Zoom. To enable this for your webinar,
Navigate to Email Settings in your webinar and click on Edit next to Confirmation Email to Registrants Send Upon registration.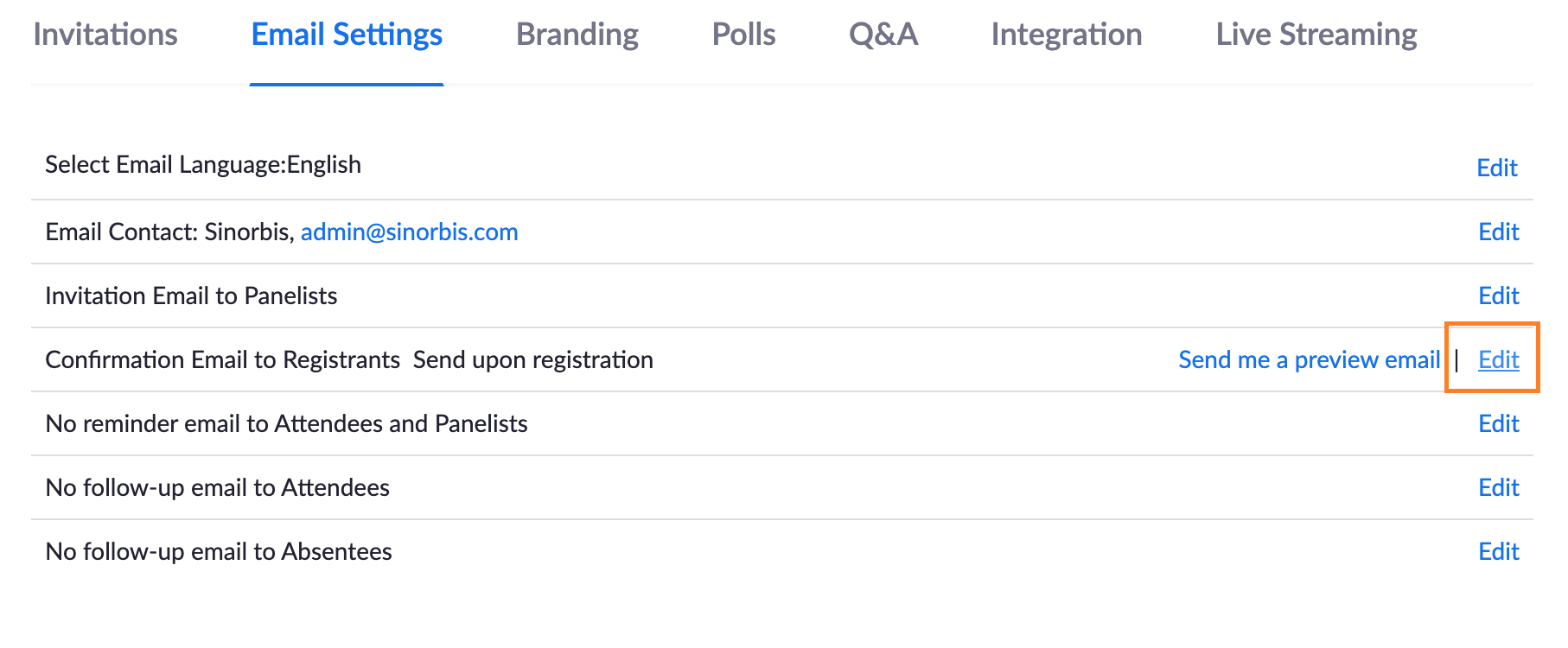 A pop-up window appears. Check the box Send Confirmation Email to Registrants and save your settings.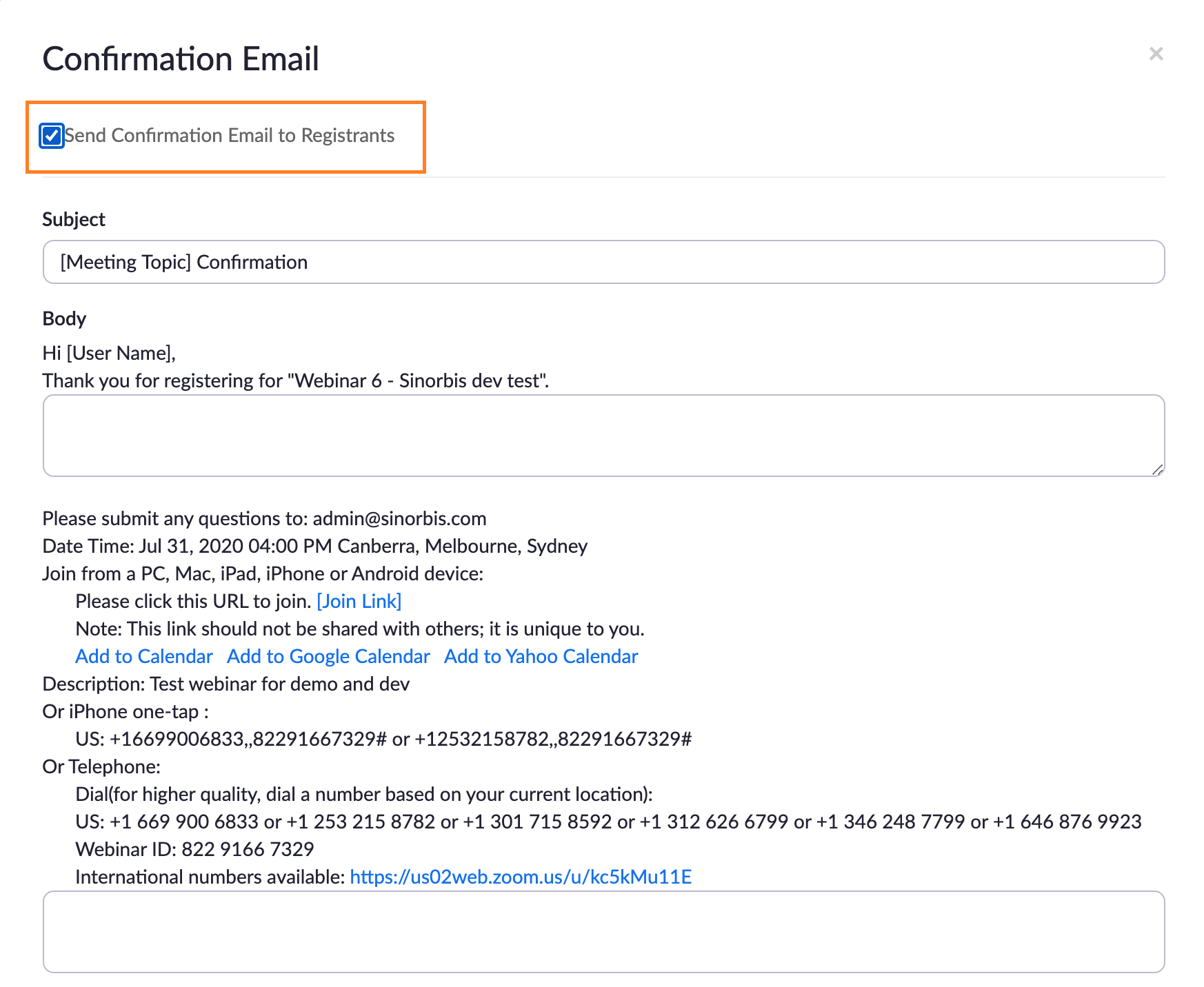 At this stage you're also able to customise the subject line and some of the email body text generated by Zoom. You can learn more about Zoom's customising options here.
3 Creating a contact form for your webinar registration page
The next step is to create a contact form on your Sinorbis webinar registration page. You can either build a landing page from scratch or use one of Sinorbis' webinar registration landing page templates.
For detailed instructions to complete these steps, please refer to the following articles:
Be sure to publish the landing page once you have added the form.
4 Connecting your registration form with your Zoom webinar
1. On the left hand side menu, click on the Forms item under Content.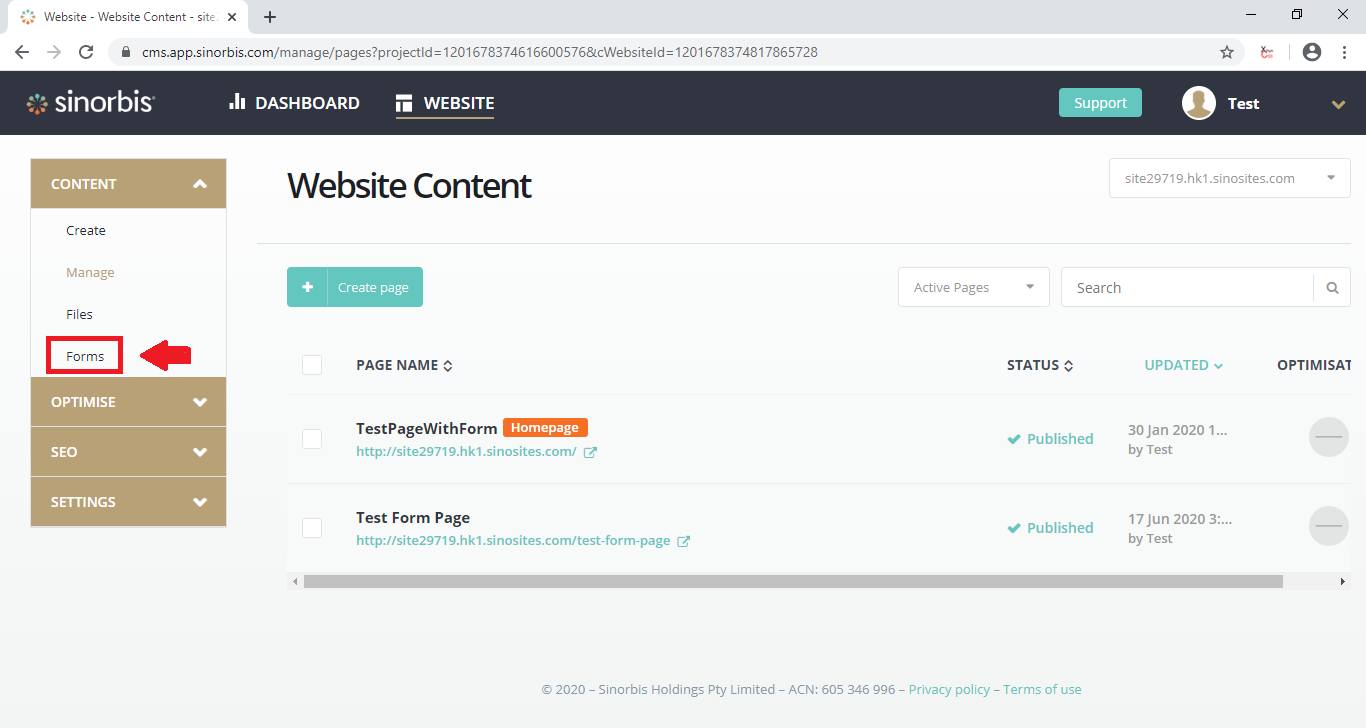 You will be redirected to a page that lists all forms you have created in your Sinorbis account.
2. Search for the form you have created for your webinar landing page and click on Integrations button.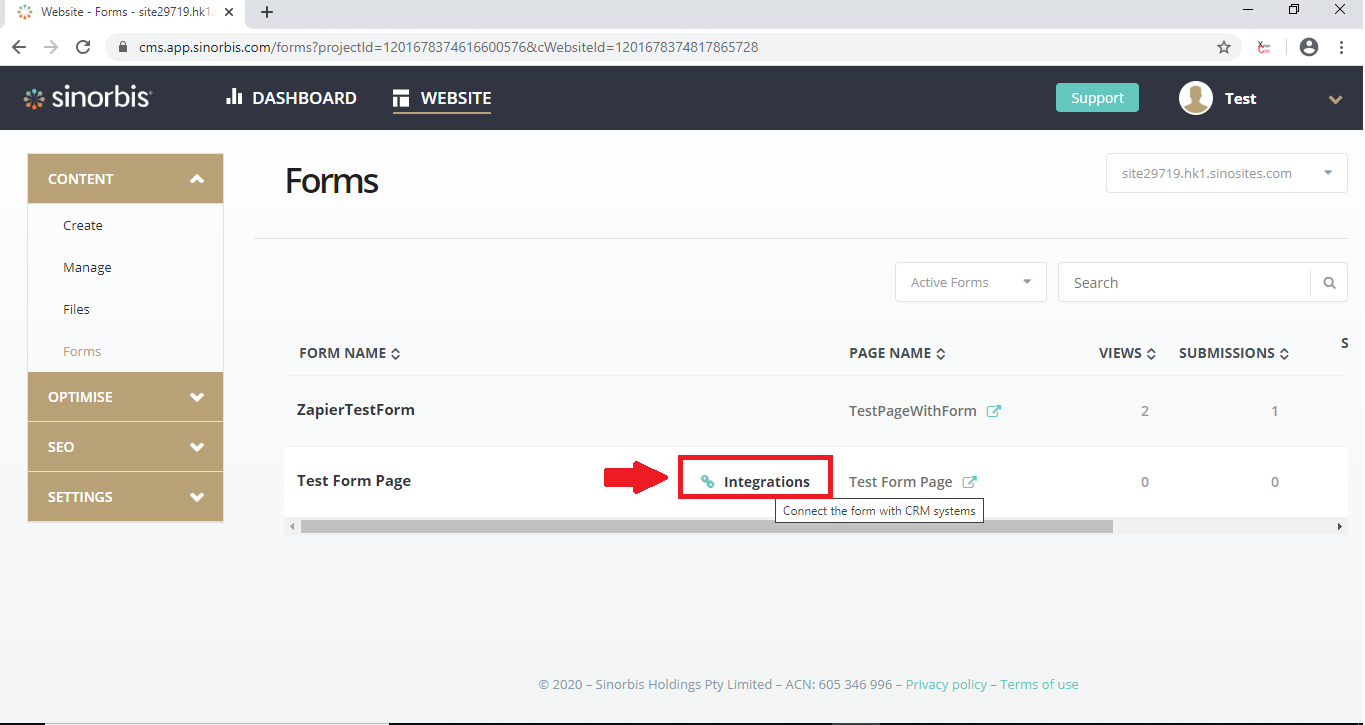 3. A popup will appear asking you to send leads to your favourite CRM.
Click on Zoom logo.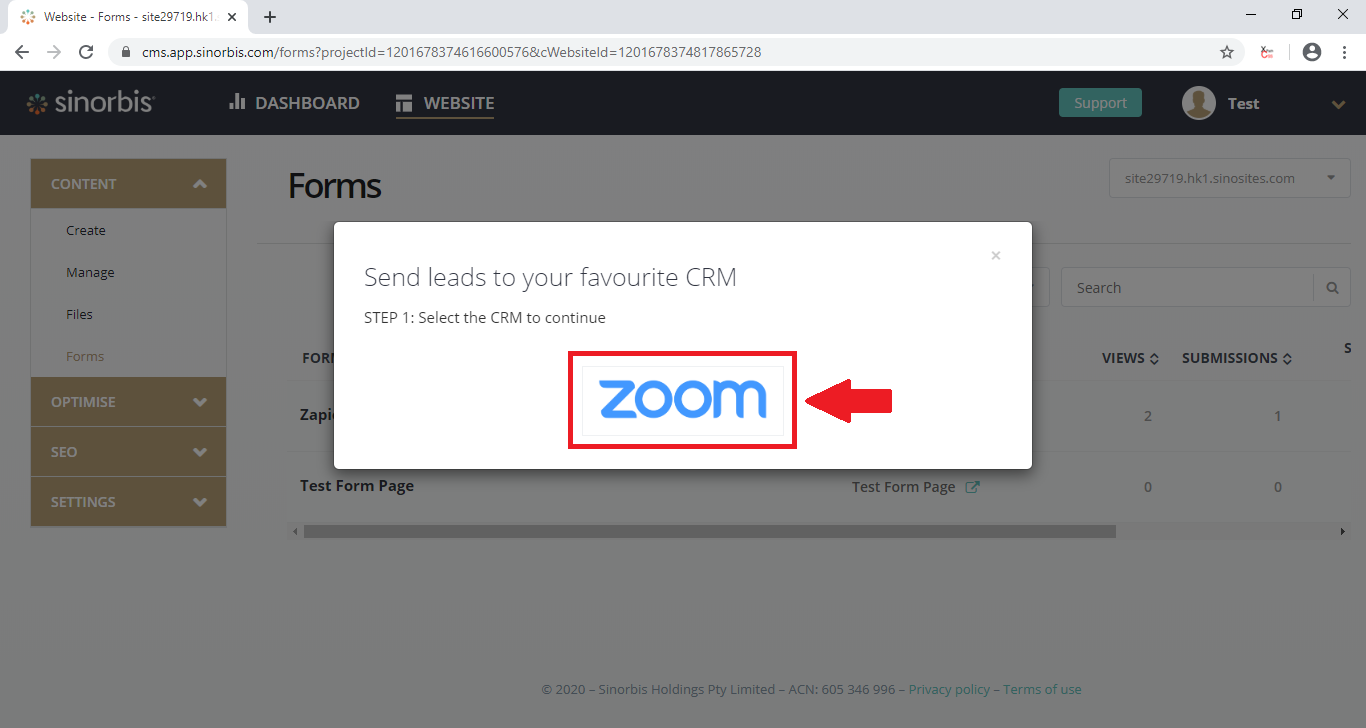 4. A second pop up will appear listing all your Zoom webinars.
At this stage you have two options:
1) You can connect the form to one Zoom webinar to register users by default.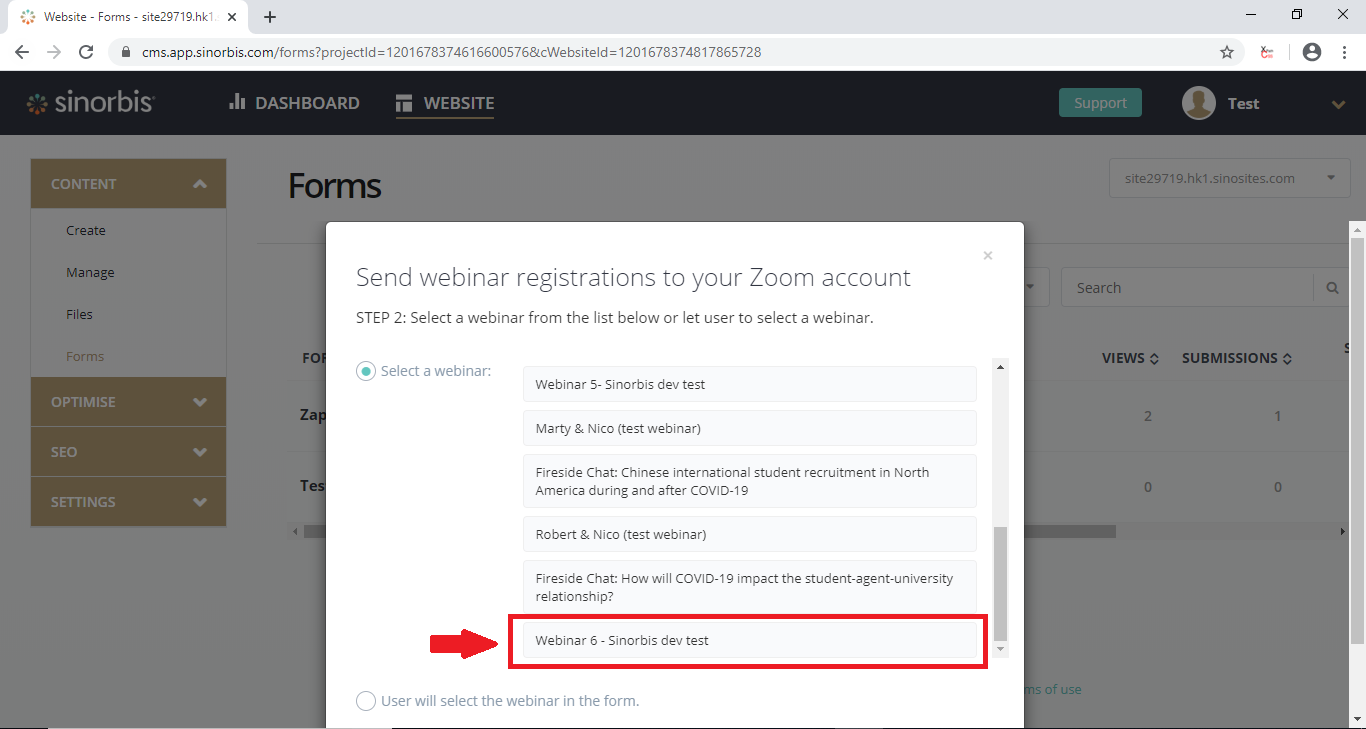 2) You can give users the option to select their preferred webinar from a number of different options.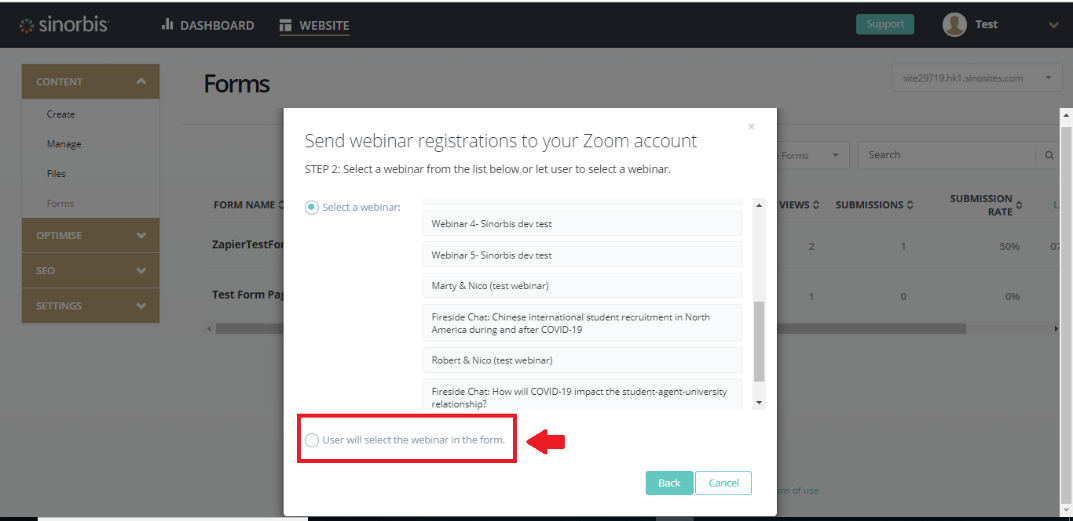 Choose the option that applies to your registration page.
5. In the next step you need to map your Sinorbis form fields with the fields in Zoom. If you have chosen the option to let people select from a list of different webinars, you will be prompted to map this field first as in the image below.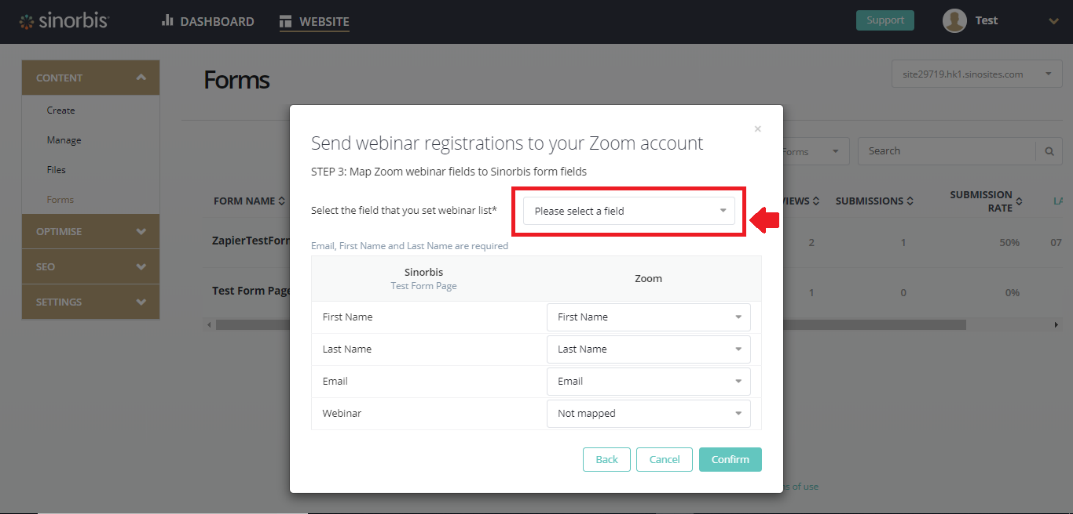 If the form is connected to one webinar, you will only be asked to map the fields.
6. When you're done with mapping your fields click confirm. Another pop up will appear confirming to send webinar registrations to your Zoom account.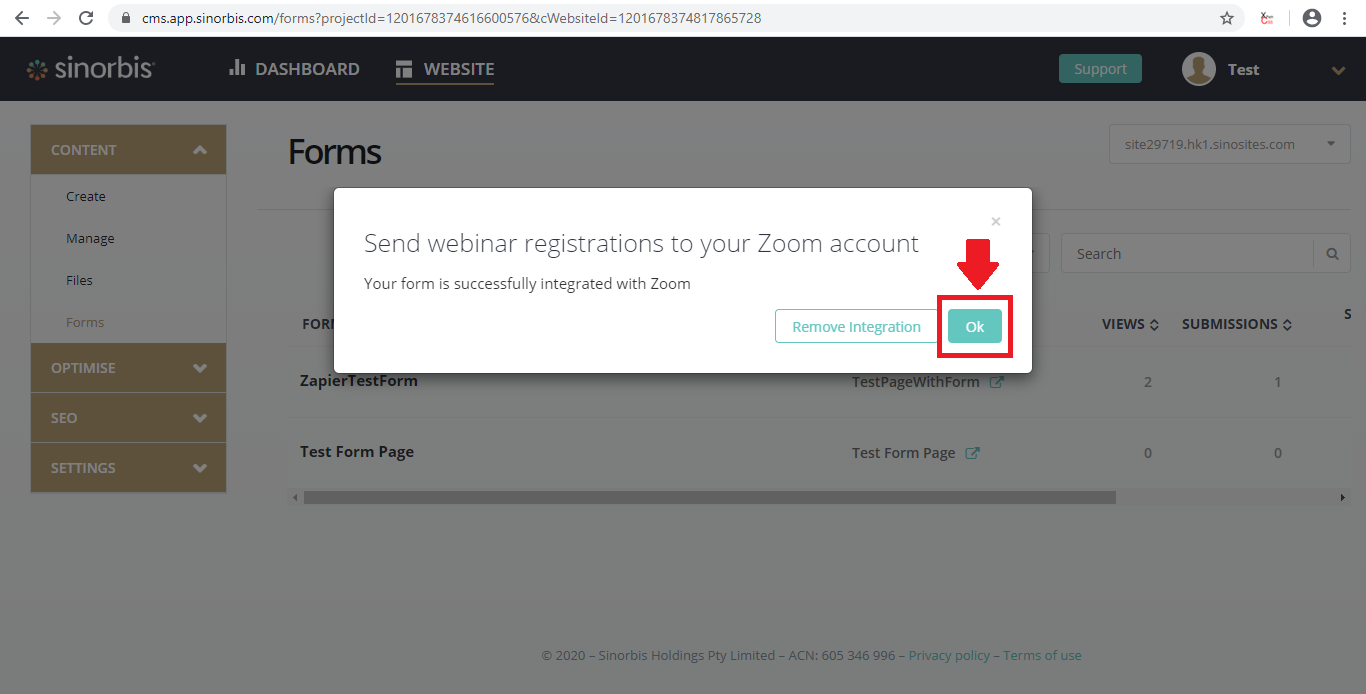 Click OK.
7. A small Zoom icon next to form name on your Forms overview page indicates the successful integration.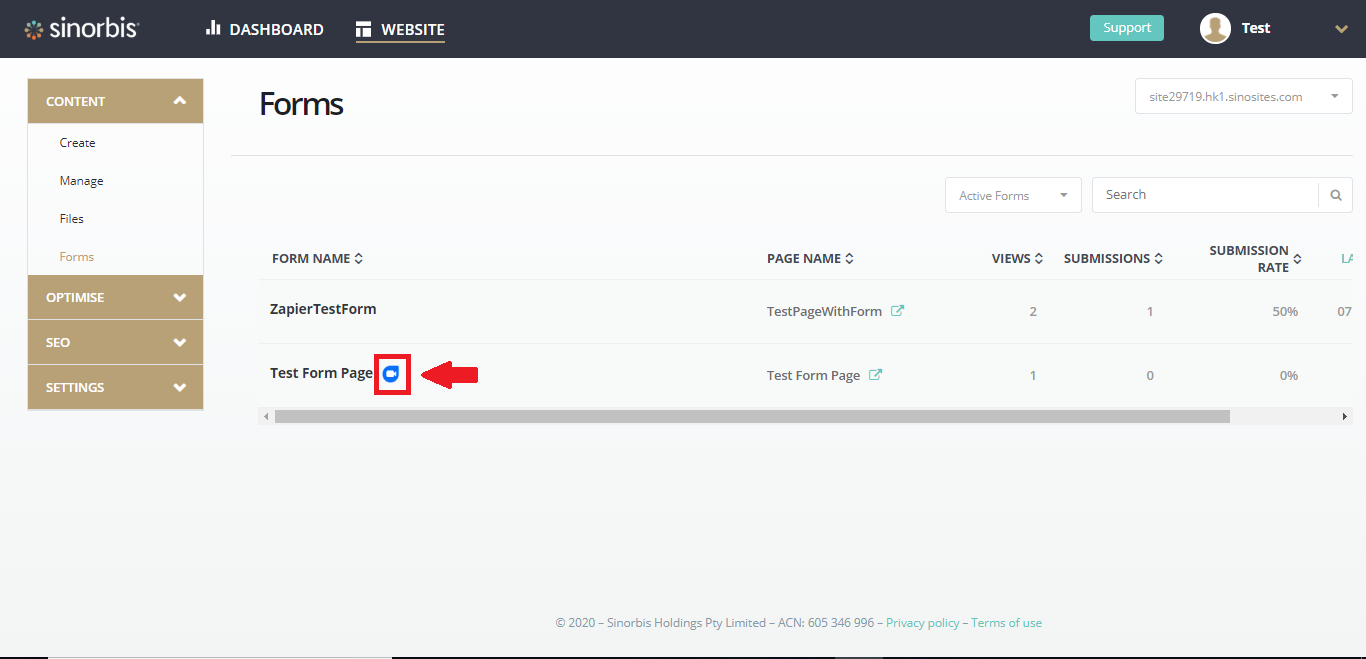 8. To test your form integration, navigate to your published landing page by clicking on the link icon and fill in the form with data. The information you submitted will now be available in your Sinorbis account and the relevant Zoom webinar.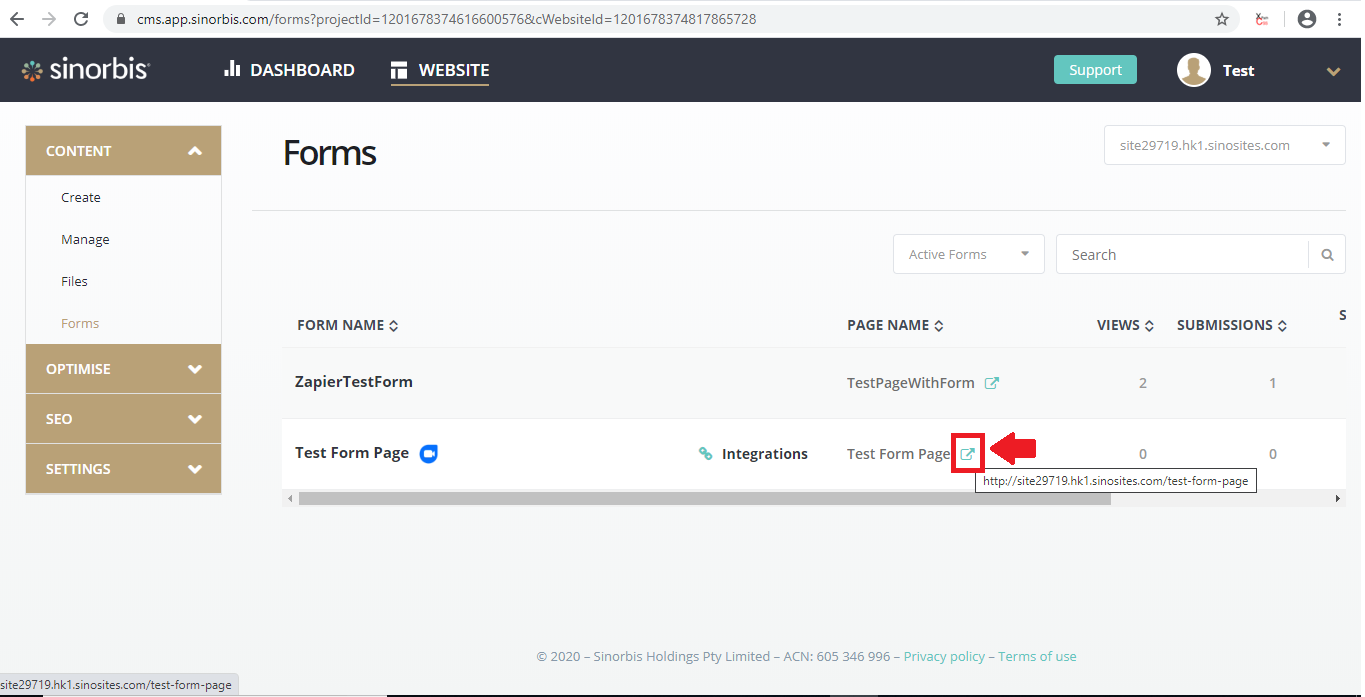 6 Accessing your form submission data
There are a few different ways to access the form submission data for your webinar. You can either integrate the form directly with your CRM via Zapier or Sinorbis' native HubSpot integration, or you download your form data from Sinorbis into an Excel file to upload into your other marketing systems.
7 Disconnecting Zoom from Sinorbis
To disconnect Zoom from your Sinorbis account, log into your Zoom account and navigate to Installed Apps.

Click on the Uninstall button next to the Sinorbis app. Fill out the reason for uninstalling click Uninstall.