Use the Embed Component to insert external content on to your page with HTML code. You can embed sound files, images, video, links, and documents, with restrictions.
YouTube, other Google services, and many digital marketing tools used in the western world are restricted in China. Embedding these types of services on your Chinese website can have a negative impact on your site's performance and slow down overall loading speed. We do not recommend using the Embed Component to insert content hosted on these services on your website.
See Also
---
1 Placing the Embed Component
Click WEBSITE on the top menu bar.
On the left side menu, select the CONTENT folder and then click Manage. The Website Content page displays.

Hover your mouse pointer on a page.

Click the Edit button. The Edit Content area opens.

Drag the Embed Component from the left panel on to the page.

Hover the mouse pointer on the component and then click the Settings button on the toolbar. The Embed Code Settings panel opens.
2 Inserting HTML Code
Write or find the HTML code.

Copy the HTML code.

Paste the code into the grey area of the Embed Settings panel.

Click OK.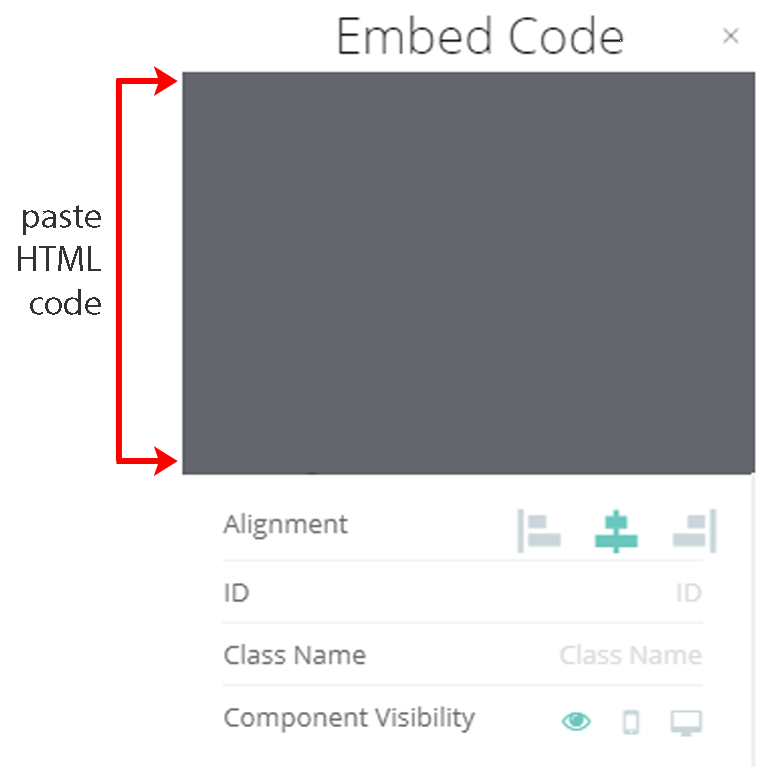 3 Modifying settings
Customise these features on the Embed Code Settings panel.
Alignment
Adjust the horizontal position of content inside the component: align to the left, centre, or right.
ID or Class Name
To learn about custom styling with ID and Class Name selectors, see:
Component Visibility
Configuring visibility lets you control which devices display the content. The default is all devices. To learn about component visibility settings, see:
If you find this article useful, you may also be interested in the following: