In a previous article, Sinorbis users learned how to respond to incoming messages and continue the conversation with one on one communication. This article shows users how to start a conversation with a contact using a WhatsApp (Meta) tool called Templates.
Templates are an essential building block that Sinorbis users need to create before they can start a conversation with a WhatsApp broadcast (the subject of this article).
About Templates
WhatsApp allows users to start a conversation with WhatsApp contacts by sending structured messages called templates. WhatsApp does not allow users to send unstructured messages (e.g. everyday emails or SMS text messages).
The WhatsApp Manager page has four basic template categories. Each template has a different purpose and can be customised by the user. Meta must approve each custom template before the user can use it to start a conversation by sending a WhatsApp broadcast. Once the template is approved, it shows up on the Sinorbis platform.
Getting started
There is a bit of backend work that needs to be completed before a user can start creating WhatsApp templates (and later sending out broadcasts). Sinorbis support staff will work with users to set up and configure the prerequisites and make sure the pieces fit together. Once the backend setup is complete, creating WhatsApp templates and sending them to Meta for approval is very straightforward.
Reviewing template options
The WhatsApp Manager page has four template categories. In practice, most Sinorbis users will likely use one or two of these categories when starting a new conversation:
Marketing - Most relevant to Sinorbis users.
Utility - Useful for e-commerce communication (e.g. messages that tell buyers about their order status).
Authentication - Used to send messages with two-factor codes.
Service - This category handles incoming messages, so it's not related to the focus of this article, which is initiating a conversation with contacts.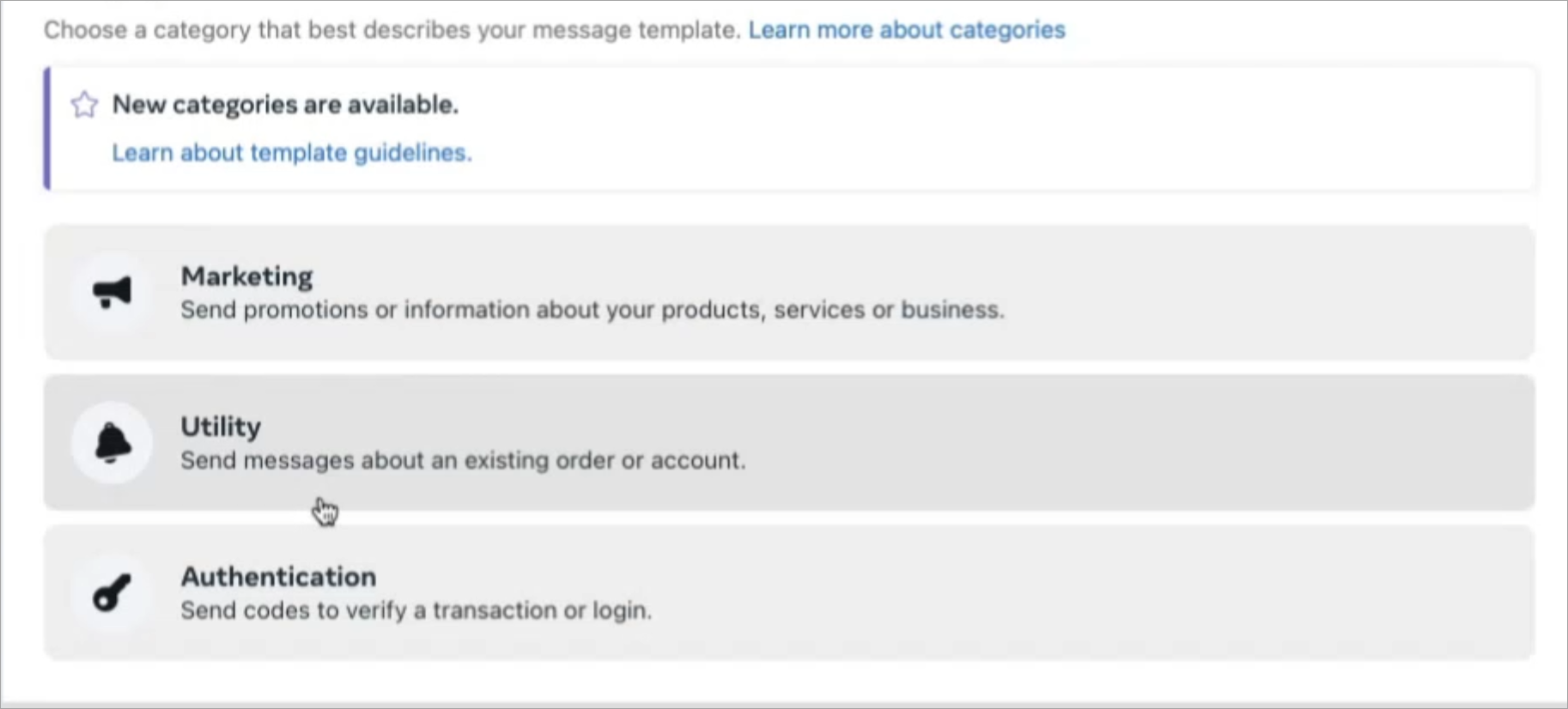 Creating a custom template
Open the WhatsApp Manager page.
Click a category to expand the folder.
Select the Custom option.

Scroll down to the Name field and enter a unique name for this template. This name is for internal use only.

Click the Language field, select one or more options, and then click the Continue button.

Note 1 The user needs to input separate text for each selected language. If, for instance, the user selects two languages (e.g. English and Vietnamese), the user has to input the message text two times.
Note 2 The list of language options on the WhatsApp Manager page is long. It's also different from the language options available on your Sinorbis account. Make sure the language selections on the WhatsApp Manager page match the available languages on your Sinorbis account. If, for instance, a user selected Korean on the WhatsApp Manager page but did not purchase the South Korea locale option on Sinorbis, the template will not show up on the Sinorbis account.
Adding message components
On the next page, add a header, body, footer, and button.
Header - This is an optional component. The default setting is None. To add text (e.g. a subject line) or media to the header, click the field and select an option.

Body - Type the message content here. Enter up to 1024 characters. Optionally, use the tools to add styling (e,g., bold, italics, etc.). Users can place dynamic content inside the message by clicking the Add variable link.

Variables - If the user adds variables to a message, the WhatsApp Manager page displays hidden fields under the heading Samples for body content. Enter samples of typical data for these fields. Meta reviews these samples when evaluating a template.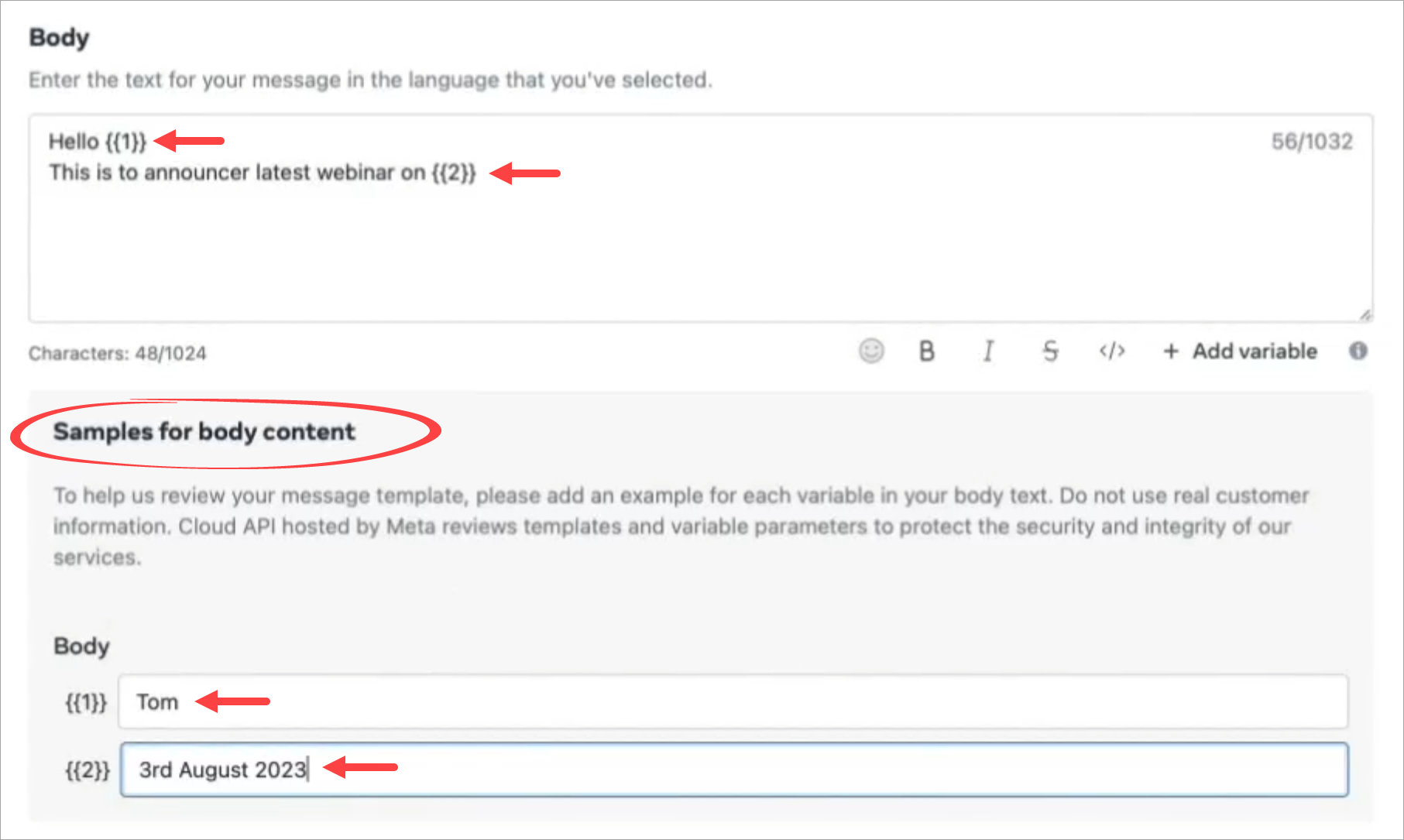 Footer - This is an optional feature, and there's just enough room at the bottom of the message for a small amount of text. If the user adds an Opt-out button (recommended), Meta automatically adds an opt-out description here.

Buttons - This is an optional feature, but Sinorbis users may want to add an Opt-out button to their messages. The default setting is None. To add a button, click the field and select an option: Call to action, Marketing opt-out, or Custom.

Preview and submit
The WhatsApp Manager page displays a Preview panel next to the Body field. Inspect the message and make adjustments before clicking the Submit button. The Submit button sends the template to Meta for review and approval. Normally, the approval process takes 1 to 2 days.

That's it.
Now you know how to create a WhatsApp Manager custom template and you can start to send a WhatsApp Broadcast.