This article shows you how to find and view contact form data. The Forms page collects several types of data to help you analyse performance including page views, number of submissions, and the form's submission rate. You can also view the data provided on each individual submitted form.
For more information about forms, see:
---
1 Opening the Forms Page
To view form submission data, go to the Forms page.
Click WEBSITE in the top-level menu. The Website Content page displays.
Inside the CONTENT folder, click Forms. The Forms page opens. It displays the current forms and the name of the webpage that holds each form.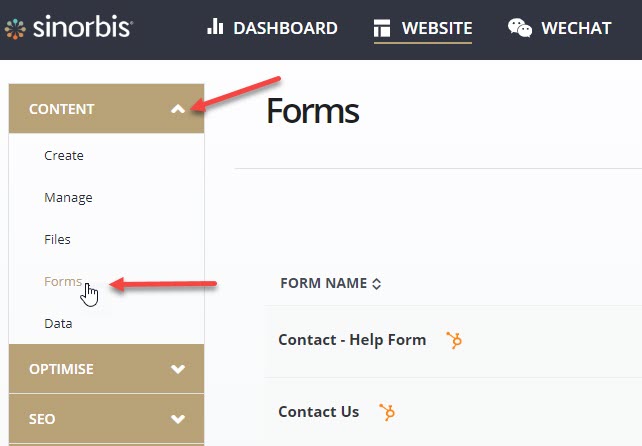 2 Locating Form Submission Data
The Forms page displays information for each active form on your website. Active means a form on a published page.
After creating a form, publish the webpage. A form that is saved but not published is not active and therefore cannot collect data.
The Forms page shows six kinds of data:
name of each active form on a published page
name of the web page that holds the form
number of times the form has been viewed by website visitors
number of times a form has been submitted
submission rate (calculated as the number of submissions divided by the number of views)
date of the most recent form submission

3 Viewing Individual Submissions
The Forms page provides basic submission data for each active form. You can also view the content of individual form submissions.
Hover the mouse pointer on an active form. The View Submission button displays.
Click the View Submission button. A submissions page displays.
To save all submitted data as an Excel file, click the Download this List button.
To view form data for an individual form, click the View Submitted Data button. A Submitted Data window opens and displays the form's fields and data.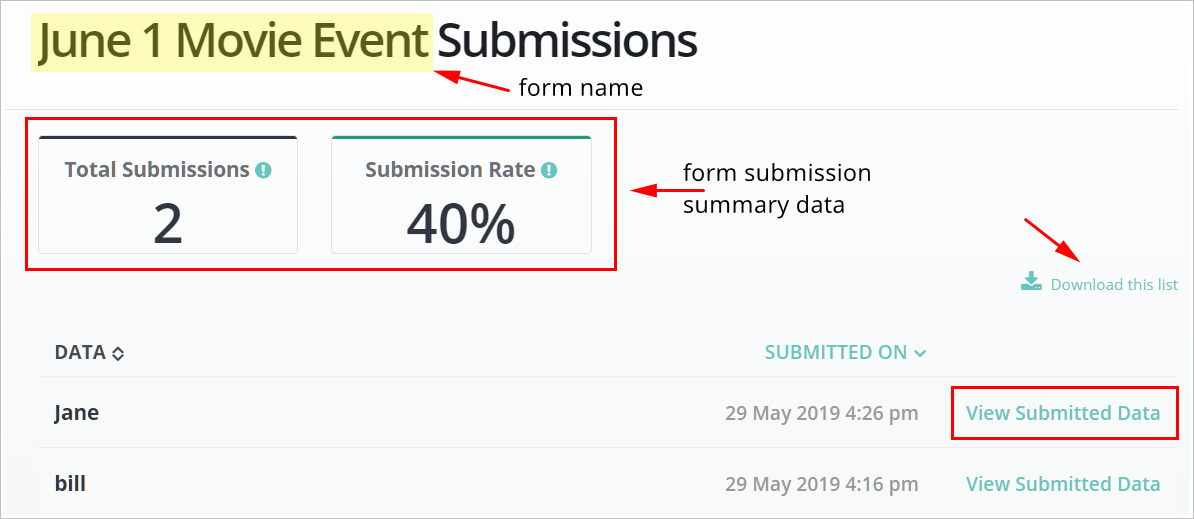 4 Viewing Deleted Forms
You can change the Forms page display to show active forms or show active plus deleted forms.
Locate the drop-down menu box near the top of the page. The default setting is Active Forms.
To view all forms, active and deleted, click the box and select ALL. All forms display on the page.
Click the drop-down menu box and select Active Forms to remove deleted forms from the display.