The Style Editor tool lets you create a palette of prefered colours. Whenever you open a colour panel, this palette appears at the top of the list.
This branding tool saves time because you do not need to remember the precise HEX or RGBA colour values. It also helps you create a standard colour pattern across your website. You can select and specify up to five branding colours.
Customise brand colours in the Style Editor. For more information, see
---
1 Opening the Settings panel
Click WEBSITE on the top menu bar.
On the left side menu, select the SETTINGS folder and then click Style Editor. The Style Editor page displays.
At the top of the screen, verify the Default Styles button is selected (it should be green).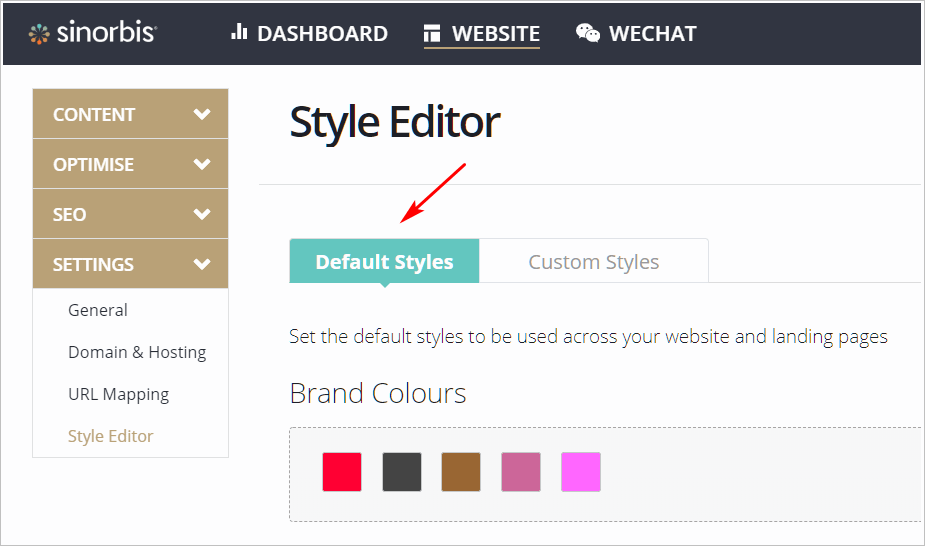 2 Opening the Brand Colours panel
Locate the Brand Colours area.

Hover the mouse pointer on a single Brand Colours box. A Pencil displays.

Click the Pencil. The Colour Picker displays.

Select RGBA or HEX from the menu and

enter a code,

or s

elect a colour from the palette.

Click the box with a red line to select a transparent colour, or clear the colour value field.

Click OK to save.

Repeat to add additional colour choices.

To make the changes active across the website, click the Publish button at the top of the Style Editor page.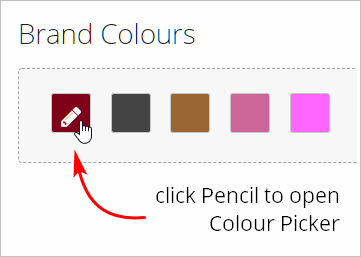 3 Locating the branding colours
Here is an example of branding colours in action: five colours set in the Style Editor.