Setting up and configuring your domain name is a basic requirement for your website to go live for all the world to see. This article shows you how to do this work this step-by-step.
You can start creating your website on Sinorbis in parallel. However, the following steps must be completed in time for your website to go live:
purchase a custom domain name
input the custom domain name into your website's Hosting & Domain page
copy your default domain name
paste the default domain name into a DNS page
Each step is explained below.
See also
Reviewing domain & hosting page information
Open the Domain & Hosting page on your website.
Click WEBSITE on the top menu bar. The Website Content page displays.
On the left side menu, select the SETTINGS folder and then click Domain & Hosting. The Domain & Hosting page displays.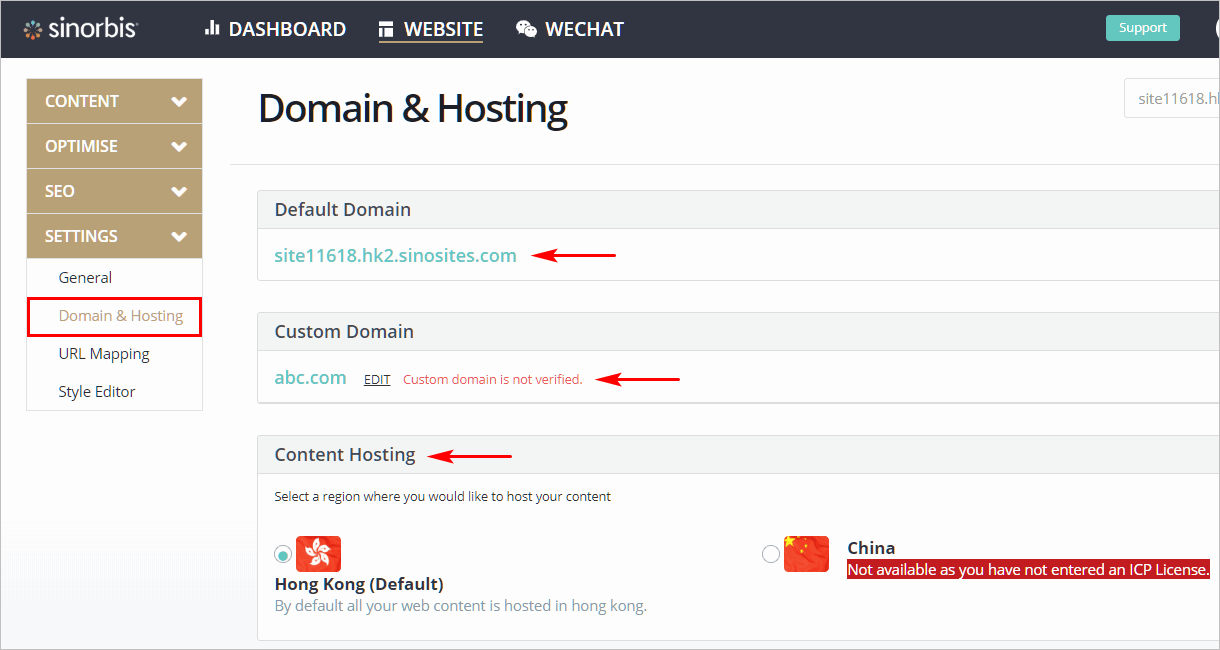 Default domain
Your Sinorbis account comes with a Default Domain name. That's your website's basic internet address. The Default Domain name cannot be changed.
Custom domain
The Default Domain name has words and numbers that aren't well-suited for marketing. That's why our clients (and website owners around the world) buy a unique domain name that matches their business or brand. That unique name is called a Custom Domain.
Content hosting
By default, your website is hosted on our primary server in Hong Kong; data location can vary because our cloud hosting system uses servers in multiple locations. The Sinorbis platform has been optimised to offer fast-loading times in China for websites hosted in this environment.
There is an option to host your website on servers in mainland China. Websites hosted in China need an ICP—internet content provider—license. The process to obtain an ICP is complex and expensive.
Understanding custom domain names
Custom domain names are not free. You have to buy one. Several online businesses sell custom domain names. These businesses are called domain name registrars, or DNR.
Domain names have a dot (.) plus an extension. Common examples include .com, .org, and .net. There are also extensions with country names, such as:
.au for Australia
.ca for Canada
.uk for Great Britain
Purchasing a domain with a country extension requires an application and, sometimes, proof of residency.
You can apply to purchase a domain name with .cn. That is the official extension for China. Buying a .cn domain name involves an application and review process.
---
1 Buying a custom domain name
Purchasing a custom domain name is not difficult. The buying process is similar on most DNR sites:
Chose a DNR and then create an account.
Enter your domain name choice into the search box.
If available, select the name and go to the checkout.
Choose the number of years you want to own the custom domain name.
Clear unwanted extra services.
Complete the purchase with a credit card or PayPal.
TIP: Some DNRs add extra fees or upsell services during the check out process. Read the fine print as you complete the domain name purchase.

DNR options
Here are 3 popular DNR sites:
godaddy.com
domain.com
alibabacloud.com
2 Searching available domain names
Before buying a custom domain, you have to:
think of a name
verify it is available
Naming tips
Here are 3 tips to consider when thinking about a custom domain name:
keep it short, around 17 characters or less
avoid numbers, hyphens and special characters (e.g. #)
make it easy to pronounce
Searching tips
Every DNR has a search function. Enter your custom domain name choice into the DNR search box. The DNR website checks to see if that name is available. If available, you can buy it.
If someone has taken that name, you cannot purchase it. In that case, you have two options:
Review the DNR's suggested alternative names.
If you don't like those options, search again with different words, phrases, or word combinations.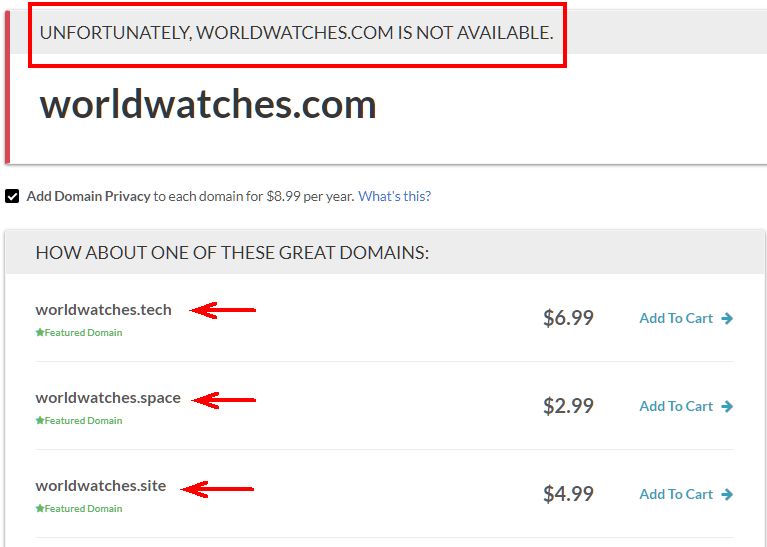 DNS background information
After some searching, buy a custom domain name.
When you buy a domain name from a DNR, you also get an internet protocol (IP) address. An IP address is a series of numbers.
It might look like this: 151.101.193.164.
Computers on the internet exchange numbers when they communicate. They don't use words. There is a system that changes words to numbers. That is called the domain name system, or DNS.
The DNS changes your easy-to-remember custom domain name into a hard-to-remember IP address.
Here is an example.
The New York Times newspaper domain name is www.nytimes.com. That's easy to remember. Its IP address is 151.101.193.164.
When people want to read that newspaper online, they type the URL into a browser, not the 12 digits.
3 Entering the custom domain name
Return to your Sinorbis account and open the Domain & Hosting page.
Click the Setup button. A panel opens.
Type your custom domain name into the Domain Name field.
Click Save.

4 Opening the CNAME page
Before completing the last step, find the CNAME page on your DNR's website:
Return to your DNR website (that's where you bought your custom domain name).
On the DNR website, open the CNAME page.
Click the Advanced DNS button. On some sites, click the Manage DNS button beside your custom domain name.
Find the line with a value for the CNAME.
Note: On some DNR sites, you select the CNAME line, and a Points To window appears. Paste your Default Domain name into the Points To window.

5 Inserting the default domain name
To complete the last step, open two windows on your computer:
the Domain & Hosting page on your Sinorbis website
the CNAME page on the DNR website
Now you are ready to insert the Default Domain name.
Copy your Default Domain from your Sinorbis site.
Click on the CNAME page.
Paste your Default Domain into the CNAME value field.
Click the Save button.
Return to the Domain & Hosting page on the Sinorbis site.
Click the button I Have Completed The … to complete the setup.

6 Waiting for system update
Congratulations. You've completed a bit of technical work and created the digital foundation of your website.
Now, you have to wait.
You changed the CNAME record of your Custom Domain name. That change needs to be updated across the internet. That update is called propagation. The time required to propagate a DNS change varies. Sometimes, it takes 24 to 72 hours for the internet to recognise and update your CNAME change.
Once propagated, login to your Sinorbis account and publish a live website.