Site optimisation involves making changes that improve your website's ranking in search engines. Optimisation changes affect your site's relevance and readability.
The Issues page provides two sets of information:
The Issues page tracks seven categories of potential errors:
Page Error
Speed Performance
Restricted Content
Page Title
Page Description
Headings & Text
Images and Links
---
1 Locating the Issues page
You can find Issues page in the OPTIMISE folder.
Click WEBSITE on the top menu bar. The Website Content page displays.
Locate the menu on the left side of the page.
Click the OPTIMISE folder. The folder opens with three page links.
Click Issues. The Issues page displays.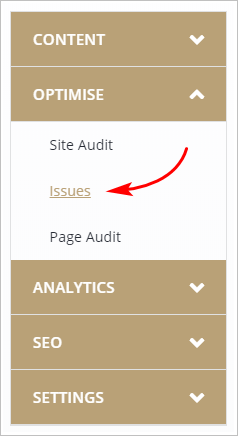 2 Locating errors
The top of the Issues page presents a summary of errors.
To quickly locate errors, click the All Issues box. A drop-down menu displays.
Locate the category, or categories, with errors.
Select a category. The page displays an Issues box with those errors.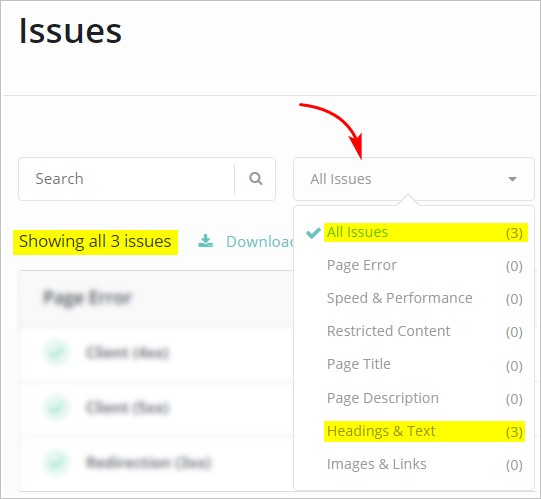 3 Reading the Issues box
Click the Issues box to display the content. The box opens and displays five kinds of error information:
error category
error name
description of the issue
suggested solutions
links to pages with errors
To fix an issue, click the page link (green text with a wrench). The page with an issue displays.
Locate the issue on the page. The issue is not highlighted on the page. You need to remember the nature of the problem mentioned in the Issues box.
Fix the issue.
Click Save and then Publish.