In this article, learn how to find and use a component toolbar. All components have a toolbar. Each toolbar has 4 or 5 tools depending on the setup.
---
1 Accessing the toolbar
Click WEBSITE on the top menu bar.
On the left side menu, select the CONTENT folder and then click Manage. The Website Content page displays.

Hover the mouse pointer on a page.

Click the Edit button. The Edit Content area opens.

Hover the mouse pointer on a component. The green toolbar displays several buttons.
To choose a button, slide the mouse pointer to a button and click.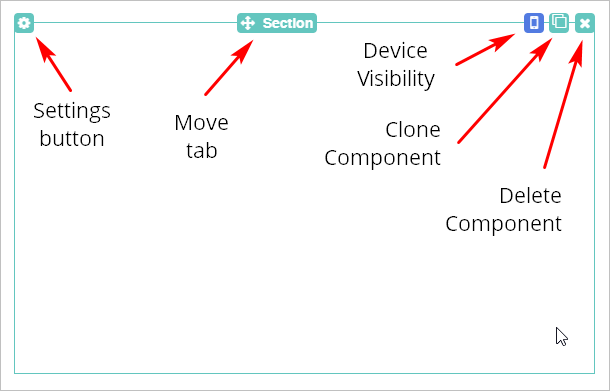 2 Reviewing toolbar options
Settings button
This is the most important tool. It opens a panel with options to customise the appearance and behaviour of components.
Move Tab
Drag the Move tab to change the position of the component.
Clone
Click once to make a copy of the component and content.
Delete
Remove the component and its content.
Device Visibility Icon
This icon reminds you the component has been set to display only on desktop computers, only on mobile devices, or no published pages
The preset is to display on all devices. The blue icon does not appear on the toolbar if component visibility option is set for all devices.